简单介绍:
THz Beam SplittersTHz光束分光片
详情介绍:
THz光束分光片
-工作方式:
-传统的THz分光片,用于普通光路,波束仅通过分束片一次;
n-用于迈克尔逊干涉仪的光路,波束通过分束片多次。
-材料:高阻硅 分光比: 54/46
-无镀膜,适用于宽光谱
-尺寸:
n截面:(1)40x30mm (2)D=50.8mm
厚度:5mm,3.5mm,其他尺寸也可定制
n
n
THz Beam Splitters
n
nnnnn
| | |
| --- | --- |
| n | Download THz Beam nSplitters Datasheet (PDF, 46 KB) |
n
We offer THz beam splitters of 2 types:
- single-pass beam nsplitter. It is used in optical schemes where radiation passes through beam nsplitter one time;
- multi-pass beam splitter for interferometer scheme where nbeam passes throughsplitter several times.
n
The material of THz beam splitter is HRFZ-Si. These beam nsplitters provide transmittance/reflectance ratio about 54/46 (%) in the wide nwavelength range without any coating.
Reflection and transmission curves are nshown below.
n
n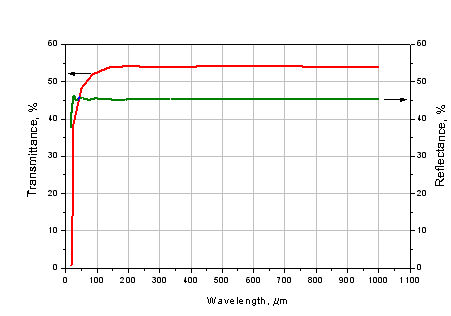 n
Fig.1 HRFZ-Si transmission and reflection (sample thickness n- 5 mm).
n
1. Single-pass THz Beam Splitter
The nspecification for the single-pass beam splitter is the same as for a HRFZ-Si nwindow. In fact plano-plano HRFZ-Si window could be used as single-pass beam nsplitter.

n
Commom specification:
nnnnn
nnnnnnnnnnnnnnnnnnnnnnnnnnnnn

| | |
| --- | --- |
| Material | HRFZ-Si |
| Type | plano-plano |
| Available sizes, mm | to 150 |
| Diameter or ncross-cut tolerance,mm | +0.0 /-0.1 |
| Thickness tolerance, mm | +/0.1 |
| Clear apperture, % | >=90 |
| Parallelism, arc. min | 3 |
| Surface quality (two-sided npolishing), scr/dig | 60/40 |
| Surface accuracy, mm | +/-0.01 deviation from ideal nplane |

n

??/p>n
n
??/p>n

The finished parts of different dimensions are available nfrom stock and supplied within a week.
Please check the Optics stock. n
Custom sizes are manufactured upon request.
For price quotation and ndelivery please fill in our Request nform.
n
n
2. Multi-pass THz Beam Splitter n
The multi-pass beam splitter (for interferometers) as opposed to a nsingle-pass beam splitter should be produced with a high accuracy.
n
Commom specification:
nnnnn
nnnnnnnnnnnnnnnnnnnnnnnnnnnnn

Material
HRFZ-Si

Type

plano-plano
Available sizes, mm
to 150
Diameter or ncross-cut tolerance,mm
+0.0 /-0.1
Thickness tolerance, mm
+/-0.01
Clear apperture, %
>=90

Parallelism, arc. sec
5

Surface quality (two-sided npolishing),
scr/dig
60/40

Surface accuracy, ??633 nnm

1


n

n
n
??/p>n
The following multi-pass THz beam splitters are available from nstock:
nnnn
nnnnnnnnnnnnnnnnn
No.

Diameter

Thickness

mm
mm
1
40x30
3.5
2
50.8
3.5